Nothing hurts more than an unexpected rainy day when you were expecting sunshine. However, just because it's raining doesn't mean you and your toddler have to stay cooped up! New York is full of great activities that you and your toddlers can enjoy — even when the weather outside is a mess. There are so many options for rainy day activities for toddlers in New York City, from indoor playgrounds and play spaces, to museums and so much more!
If you want even more fun indoor spots perfect for a rainy day check out this list of playspaces in Greenpoint and Williamsburg Looking for rainy day activities with big kids and tweens? Check out our suggestions!
Rainy Day Activities for Toddlers in New York City!
Manhattan
CAMP
110 5th Ave. New York, NY, 10011
CAMP calls itself a family experience store. It's a space designed to engage families and inspire creativity in kids. They have events and activities like making your own lightsaber or go-karts. The location has a store, canteen and milk bar, and a theatre made for various workshops and performances. CAMP rotates themes every couple of weeks so even if you've visited before, making another trip could mean a totally new experience!
Children's Museum of Manhattan
212 W 83rd St., New York, NY 10024
With the goal of promoting happy and healthy childhoods, this museum features experiences that involve the arts, sciences, and humanities. They have more than 80 classes, workshops, and performances that are free with admission to the Museum. All the events are based on research — guaranteed to fit in with the various ways that kids can learn and parents can support their children. Kids can attend puppet shows, storytimes, singalongs and so much more. Your toddler is sure to have a great time!
Sugar Hill Children's Museum of Art and Storytelling
898 St Nicholas Ave., New York, NY 10032
The storytellers here continue a tradition of spoken word but also make sure kids have access to all the arts. Kids are encouraged to think about what they hear and share their thoughts as a way to build confidence and practice language skills. This space serves as a community home for creativity and explores the diversity in New York. In-house artists help kids how to flex their imaginations and make art they're proud of.
Chelsea Piers
62 Chelsea Piers New York, NY 10011
The pier is full of so many activities. The Toddler Gym is self-proclaimed as one of the best indoor toddler play areas in the city. Kids can move around, crawl, and explore the space. Your toddler can take part in an "open play" environment with state-of-the-art equipment, making it the perfect space to learn. Above all, this is a drop-in activity so it is subject to change. Chelsea Piers recommends calling to confirm daily hours before showing up.
Museum of Ice Cream
558 Broadway New York, NY, 10012
The museum will launch in New York City on December 14th and will stay until March 1st. It's full of color and multi-sensory installations that are sure to be wonderful. Guests can cheer their way down a three-story slide, eat delicious treats on floating tables and take a ride on a pink MOIC subway. You can even dive right into a huge sprinkle pool! This year brings a new cafe to the location as well. Nothing beats a rainy day like a scoop of some of their signature ice cream flavors. In addition to all that, the MOIC is also designed to be an environment that's culturally inclusive and community-driven. Popping in here to avoid the rainy day blues is a great idea. Want to learn more about the Museum of Ice Cream? Check out our post, Tickets Go on Sale for Museum of Ice Cream in New York City.
The Color Factory
251 Spring St., New York, NY 10013
By teaming up with local artists, illustrators, designers, food vendors and non-profits, the Color Factory features brand-new participatory installations of color collected from around the city. Your kids will be able to play, discover and learn and expand their curiosities about what contributes to New York City's unique color palette and the color stories of the artists who live here. Your older kids will love a day full of bright colors and interesting experiences that engage all of their senses in the 20,000 square foot facility! General admission for adults is $38, while kids ages 3 to 12 are $28. The museum is open Monday, Tuesday and Thursday 10 am to 9:30 pm and Friday through Sunday 10 am to 10:30 pm. Want to learn more about the Color Factory? Check out our post, Color Factory with Kids: New York's Brightest Attraction Reviewed
Sloomoo Institute
475 Broadway (Between Broome and Grand Streets)
Of all the rainy day activities for kids around New York, this might be one of the most fun. Your kids will go bonkers over this sensory playground centered around slime! Try this new spin on rainy day relaxation with the stress relief that comes with playing with slime. Kids (adults too) can play with 30 different vats of slime, immerse themselves in the ASMR tunnel, track their brain activity with the EEG machine and even design some slime of their own with the 150-long DIY bar! Hop on this internet trend and enjoy a carefree day with this fun and interactive pop-up. This rainy day activity is great for social media content! Tickets are $38 each and come with a custom 8.oz slime. It is best to purchase tickets in advance. The playground is open from 10 am to 8 pm Sunday through Monday and until 9 pm Friday and Saturday. Want to learn more about Sloomoo? Check out our post, Sloomoo Institute of Slime: New New York City Pop Up.
Gracie Mansion
East 88th Street and East End Avenue, New York, NY 10028
Known as the "Little White House," Gracie Mansion has been the home of many NYC mayors over the years. Archibald Gracie built the house in 1799, and it was bought and sold by a few others before NYC finally took control of the estate in 1896 due to non-payment of taxes. Before its tradition as the "Little White House" began, Gracie Mansion was the first Museum of the City of New York, which then moved to its permanent location in 1932. The mansion has undergone several renovations and expansions over the years, including the addition of a ballroom and reception rooms when Robert F. Wagner was mayor. When Mayor Michael Bloomberg decided to stay in his own house in 2002, the mansion was renovated and restored into the "People's House," creating more municipal and public access. Visit the Gracie Mansion to learn more about the fascinating Little White House. Tours are Mondays at 10 am, 11 am, and 5 pm. Make a reservation online to visit.
The Wonder
174 Hudson St., New York, NY 10013
For a rainy day, this is a cool new members-only club designed especially for the needs of New York families. The Wonder includes two classrooms which will host daily activities for children 12 and under, family game nights and birthday parties, a lounge decorated in soothing tones of blue and anchored by two Pierre Paulin Osaka couches, and an adults-only co-working space. While the kiddos are occupied with a class, parents can take advantage of this space to catch up on work or make phone calls. Want to learn more about The Wonder? Check out our post, The Wonder: A New Members-Only Club for Families Opens in Tribeca.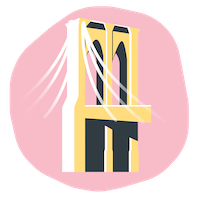 Brooklyn
All Ages At Nitehawk
136 Metropolitan Ave. Brooklyn, NY
It can be hard to find time to get to the movies when you're with your young ones and Nitehawk acknowledges that. They have an ongoing series where they provide G and PG-rated films that are ideal for all ages. It's a good opportunity to get out of the house and enjoy a bowl of popcorn or delicious meals while watching movies. The Nitehawk also has Adults with Infants screenings if your child is on the younger side.
Good Day Play Cafe
591 5th ave Brooklyn, NY 11215
If you want a cool place to get a quick bite to eat while making sure your child is entertained, this cafe is for you. The Good Day Play Cafe is an indoor, kid-friendly cafe and juice bar — a great place to spend a rainy day. Their play area has an angled climbing wall, a slide that goes right into a colorful ball pit, a play marketplace, plus so much more! The place is full of sensory toys, matted building blocks, legos and the like. They recommend your child bring a pair of socks before jumping in.
Brooklyn Children's Museum
145 Brooklyn Ave., Brooklyn, NY 11213
As the world's first children's museum, Brooklyn Children's Museum is a center of learning and love. Their mission includes encouraging kids to see the world from different perspectives and appreciate other cultures. They work hard to stimulate dialogue between parents and children by providing family resources. Kids can play in sensory rooms where they can use their senses while playing. The room has items like sensory mats and swings. On other days, there's the Block Lab that lets your child develop skills like spatial reasoning, engineering, and language skills through their Imagination Playground block set. No matter what day you visit, you'll be sure to find something for your toddler to do.
NY Kids Club
182 Henry St., Brooklyn, NY 11201
This location features spacious classrooms, a dance studio, a gym space, and a culinary institute. While they're more known for their preschool programs and camps, NY Kids Club also hosts a variety of events and has a play space for kids. Kids are invited to enjoy supervised, unstructured playtime in their gym. There are also weekly themed PJ parties and the opportunity for kids to take classes in subjects like karate, music, and Spanish. There are multiple locations all over the city, so be sure to choose an area near you and see what they offer as this makes perfect rainy day activities for toddlers in New York City.
New York Aquarium
602 Surf Ave. at West Eighth Street, Brooklyn, NY 11224
Through 120 years of conservation and education, the New York Aquarium has been involved in keeping the world's most endangered species and habitats safe from danger. Guests can enjoy interactive shows in the Aquatheater, view colorful marine life at the Glover's Reef display, have fun with the penguins and otters at the Sea Cliffs, and get up-close with sharks, sea turtles and rays at the Ocean Wonders exhibit. Hands-on activities, unique experiences, and camps are all available to educate children and families about the animals and the aquarium's conservation efforts. Big kids will love learning more about the amazing life under the sea. There are also opportunities for teens and tweens to volunteer and get involved. Adult admission is $29.95 and kids ages 3 to 12 are $24.95. The aquarium is open daily from 10 am to 4:30 pm.
New York Transit Museum
99 Schermerhorn St., Brooklyn, NY 11201
Your big kids can spend their rainy day learning more about transportation in New York City. Founded in 1976, the New York Transit Museum is dedicated to preserving the unique stories of mass transportation, extraordinary engineering breakthroughs, dedicated laborers, transformed communities, and constantly-evolving technology. View collections of restored vintage train cars and buses and learn about the land-based transportation systems of the past and present. Family programs include nostalgia rides, workshops, discovery rooms, and hands-on activities and stories —such fun rainy day activities for toddlers in New York City! Admission for adults is $10 and kids ages 2 to 17 are $5. The museum is open Tuesday through Friday 10 am to 4 pm and Saturday and Sunday 11 am to 5 pm.
Recess d.u.m.b.o
81 Washington Street in DUMBO, Brooklyn, NY 11201
For more freedom of movement, Recess d.u.m.b.o. at 81 Washington Street offers $30 drop-in play sessions and $40 classes with sibling discounts. Activities run from 9 am to 5 pm on weekdays and 9 am to 11:30 am on weekends. In addition to its spacious play areas with slides and climbing structures, the location has various classes for toddlers including acting, yoga, dance and preschool prep. Babies can attend music classes along with their older peers.
Queens
Bounce N Play
20-21 Steinway St., Astoria, NY 11105
If your toddler is brimming with pent up energy that can't be contained in your home, consider paying this place a visit. Opened by a local mom in 2014, Bounce N Play has everything needed to make a child happy. For example, there are bouncy houses, giant inflatable slides, playsets, a jungle gym with tubes, a rock climbing wall, toys, and a ton of arcade games. Best of all, there are special open-play sessions for kids specifically under 6. Drop-in schedules do vary so make sure you visit their website or call to get all the details.
mini GALAXY Play Cafe
178-02 Jamaica Ave., #2FL ​Jamaica, NY 11432
This is another kid-friendly indoor playground — a marvelous place to spend a rainy day. Their play area includes rocking horses, a log bridge, a space-chain bridge, climbing ladder, double slides, a ball pit, and more. They even have a  foam-block pit and a play kitchen. For parents, there is a seating area and cafe that serves all sorts of treats and foods.
New York Hall of Science
47-01 111th St., Corona, NY, 11368
This place is packed with cool things that will keep your mind off the weather. There's a solar panel that can charge your phone, a multitude of films, and art to enjoy. Children can build lego mazes or create different instruments in their Sound Lab. They can even create their own pinball game with everyday objects! In all, the NYSCI has more than 450 interactive permanent and temporary installations that all teach the basics of science and promote learning. Kids are able to touch, see, and make use of their curiosity. This makes for great rainy day activities for toddlers in New York City
Turn the Page Again
39-15 Bell Blvd.
718-767-2341
Visit your local bookstore! This is an Affirmative Business program initiated store that sells like-new, used books. Ever since they opened in February of 2010, they have dedicated their time to selling books for both children and adults. They have everything from fiction, mysteries, cookbooks, classics, romance and more. Their children's section is large and offers options for readers of all ages. This includes board books, picture books, Newberry and Caldecott winners, non-fiction, educational and more. Since their stock changes daily, you'll never know what hidden gems you might find. Another bonus here is that they have amazing sales with prices for some books being as low as $1. Looking for a book store in your borough? Check out our post, The Best Libraries and Local Book Shops in NYC
Bronx
Billy Beez
200 Baychester Ave., Unit 313-316 Bronx, NY 10475
Billy Beez is another indoor play park for kids. Their park offers a variety of fun activities, from sports courts to trampolines to slides of all types. They note that the park is ideal for all ages, not just your toddlers. There is a Mini Beez section so your toddlers and infants can safely enjoy the fun. Even adults can enjoy their time here. Billy Beez started off as a way to provide an option for kids to be active and stay fit. That's still very much part of their goal. The play park today is a place where families can create memories and kids can make their way through new environments while developing mental and physical skills through play.
Citywide
New York Public Library
Across NYC
Head to one of the New York Public Library branches where there are tons of opportunities for storytime and fun events that the kids will love doing! Whether you enjoy board games, coloring, or want to engage in literature workshops paired with exciting activities, you can look forward to a great rainy day at the New York Public Library! Just take a look at their extensive event's calendar here and find a location in your neighborhood.