Gymnastics is one of the most challenging, yet rewarding sports to get involved in. For kids, it can be a fun, constructive way to burn off extra energy, stay in shape, learn discipline and set and achieve goals. No matter your child's age, skill level or commitment, there is a class out there for them. Luckily, New York City is home to countless clubs and gyms, offering an array of different classes. Scroll through and find one best for your kids below and they'll be tumbling, flipping, balancing and cartwheeling in no time. Who knows, you could even be raising a future Olympian!
For more New York City gymnastics classes and programs, click here.
Manhattan
Chelsea Piers Youth Gymnastics
62 Chelsea Piers
800-984-4218
Choose from a variety of classes with a curriculum for children of all ages, ability and skill levels. With the great instruction, facilities and coaching in Manhattan, Chelsea Piers will design a program to specifically target your child's fundamental gymnastics skills, all while preparing them for more advanced classes. Beginner classes start for children as young as 12 months and progress to elite-level teams that compete in USA Gymnastics (USAG) sponsored competitions. School break and one-day camps, along with a drop-in teen parkour program are also available.
Neighborhood: Chelsea
The Little Gym
124 Hudson St.
212-941-9300
Allow your child's development to be nurtured with grade school gymnastics classes at The Little Gym of Tribeca. These classes, ranging from beginner to intermediate levels, not only aims to improve your child's balance, flexibility, agility and power, but also boost their brains with problem solving, concentration and complex directions. Gymnasts are also taught leadership, group participation and how to manage emotions. Tumbling, flipping and aerial classes are all available. Classes are best for kids ages 6 to 12.
Neighborhood: Tribeca
NYC Elite Gymnastics
200 Riverside Blvd.
212-775-1177
44 Worth St.
212-334-3628
421 E. 91st St.
212-289-8737
With three great locations in Manhattan, NYC Elite takes pride in providing your child with a safe learning environment. Whether your child is interested in classes, camps or joining an elite competition team, this USAG member is bound to offer them a great experience. Classes begin with toddlers as young as 9 months and end with girls classes for 5 t0 14-year olds and boys classes for 5 to 12-year olds. The Elite STARZ teams are invitation only, but if you believe your child has the skill to compete on an advanced level you may schedule an evaluation. Competition teams are for children ages 4 to 18.
Neighborhoods: Upper West Side, Tribeca, Upper East Side
Discovery Programs
251 W. 100th St.
212-749-8717
With a variety of classes that suit children any age, Discovery Programs may be a great place for your kids to get their gymnastics experience. Fuse together sport and the arts with the artistic gymnastics and gym and art combo classes. Aside from recreational classes and competition teams, Discovery also offers Spanish gym, a class taught in Spanish, and gym for boys, which is taught by their male coaching staff. Classes are designed to help children build their skills and have fun, all at their own pace.
Neighborhood: Manhattan Valley
92Y
1395 Lexington Ave.
212-415-5500
92nd Street Y dates back to 145 years ago primarily to serve the Jewish community. They strive to bring people together with incredible programs relating to the performing arts, literature, culture, education, talks on topical news, healthy lifestyle, and Jewish living. One of their best programs includes gymnastics for kids! Their gymnastic classes make great after-school activities that accommodate different ages and skill levels. Here, they can learn basic tumbling, how to work the balance beam, pick up vault skills, and more!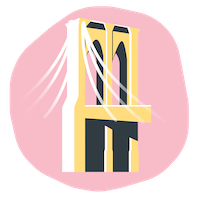 Brooklyn
Brooklyn Gymnastics and Dance
Brighton One Center, 3048 Brighton 1 St. 2nd Floor
Oceanview Jewish Center, 3100 Brighton 4 St. Lower Level
East Midwood Jewish Center, 1625 Ocean Ave. Lower Level
646-752-6903
If your kids love to dance, tumble, flip and groove to the beat, the rhythmic gymnastics classes at Brooklyn Gymnastics and Dance may be perfect for them. With an array of classes based on age and skill level, participants will have fun and develop their skills. They may even make it to a competitive level. Have your kids channel their inner performers with this fusion of gymnastics, ballet and modern dance. It's the perfect balance between performance and sport.
Neighborhoods: Coney Island, Midwood
Prospect Gymnastics
1023 Church Ave.
718-484-0911
With a team of carefully selected and trained coaches and an unmatched curriculum, Prospect Gymnastics is a great spot for your kids to build an everlasting skill set in gymnastics. With each class, the goal is to build each participant's skills and allow them to gain confidence all while having fun. Choose from a range of classes, including basic gymnastics classes for all ages, tumbling classes and even cartwheel workshops and boys' parkour classes. No matter your child's skill set, dedication, age or interests, there's a class for them at Prospect Gymnastics.
Neighborhood: Flatbush
Brooklyn Gymnastics Center
1635 Bath Ave.
718-232-6444
Come see if Brooklyn Gymnastics Center is right for your child with a free trial class. With options for children of all ages, this USAG-certified gym and its professional trainers could be a great spot for your kids to start off their gymnastics careers. Choose from tumbling classes for cheerleaders, general gymnastics programs, year-round sessions, competitive teams and school and camp trips. If you have more than one child enrolling, you may even be able to save 15% on your second child's enrollment.
Neighborhood: Bath Beach
Queens
Lana's Gymnastics Club
71-25 Main St.
718-263-2121
Your kids can reap all the benefits gymnastics has to offer with classes at Lana's Gymnastics Club. Utilizing games, gymnastics skills, music and equipment, children are challenged and their mental and physical development is nurtured. The mission at Lana's is to foster a safe and happy environment where your kids can increase their self-confidence by developing their athletic ability. Classes start for preschool aged kids and progress through various age groups. There is also a path of classes set for participants looking to compete with the Junior Olympics Program.
Neighborhood: Flushing
Park City Gymnastics Ltd.
170-16 39th Ave.
718-463-1511
Programs at Park City Gymnastics are designed to develop your child from 12 months old to college age. Students will be taught specific proficient gymnastics progressions, and as they mature, classes are adjusted to their changing attention spans. Park City's goals is to develop and nurture all of its students' desire for physical fitness through the art of gymnastics. Mommy and me classes for youngest students are available and students who develop the proper skill set may have an opportunity to join a competitive team.
Neighborhood: Flushing
Triumph Gymnastics
79-41 Cooper Ave.
718-417-1216
This recreational program for children ages 3 to 18 places an emphasis on developing physical fitness, athleticism, and boosting your child's health. Classes accommodate all skill levels and offer instruction in all major events including floor, uneven bars, balance beam, vault and trampoline. Aside from the recreational classes, Triumph Gymnastics also offers a competitive program for kids who want to take their talent to another level.
Neighborhood: Glendale
Bronx
Spotlight Gymnastics
901 Pelhamdale Ave.
914-738-7305
With a focus on improving flexibility, coordination, strength, endurance and overall gymnastics skills, classes at Spotlight Gymnastics are available for toddler-aged kids through teenagers up to 18 years old. The overall goal of any class is to instill confidence, self-esteem and good gymnastics skills that your child can carry over to any other sport. Along with class progression programs, parent and toddler classes, along with summer camps and boys only classes are available.
Neighborhood: Pelham
Fancy Feet Dance Studio
1295 Allerton Ave.
929-384-7692
1717 Crosby Ave.
929-384-7741
If your kids are more into dancing but want to dip their toes in gymnastics too, Fancy Feet Dance studio may have the perfect option for them. With their acrobatic gymnastics class students will learn moves like round offs, back handsprings, and aerials, to name a few. These skills can be used to expand their horizons into the world of gymnastics, or improve their dance routines. The curriculum is always age appropriate and focuses on the skills needed for floor gymnastics. Classes are offered for children of all ages and levels of experience.
Neighborhoods: Laconia, Pelham Bay
Uptown Sports Complex
636 South Broadway
914-965-2619
Gymnastics programs at Uptown Sports Complex get your kids' gymnastics careers started at as young as 18 months. Kids have the opportunity to work their way through competitive levels and show off their skills with the Starz team. Private lessons and open tumbling times are also available for those looking to get one-on-one time with a trained coach or to just come out and have fun without the pressure of competition. Classes operate weekly and require prior registration. Additionally, after school programs and summer camps at USC are also available.
Neighborhood: Park Hill