What better way to ring in a new season than to bust out the green and start looking for rainbows after all that snow and cold? There's nothing better than an all-out holiday to beat the winter blues, so here are some festive St. Patty's Day picks that won't cost you a pot of gold.
Lucky Charms
Eleni's New York is celebrating St. Patrick's Day with an assortment of themed cookies and cupcakes to brighten any celebration. Kids will love these iced confections baked in the shape of a shamrock, a pot of gold, a leprechaun, or a rainbow. And no need to fret about allergies—Eleni's is a nut-free bakery!
Sweet Shamrocks (8 cookies) $28.50; Pot Of Gold (9 cookies) $48.50; Happy Go Lucky Cupcakes (12) $35.40; elenis.com
I See London, I See France…
The Catherine Baby Knickers from ilovegorgeous are cute as a button at any time of year, and luckily they come in the ideal shade of clover green for March 17th. Banish the visible diaper! Just slip them on under her dress or pair them with a little tee for the perfect festive outfit. Either way, you won't feel iffy about showing off these adorable bloomers.
$27; ilovegorgeous.co.uk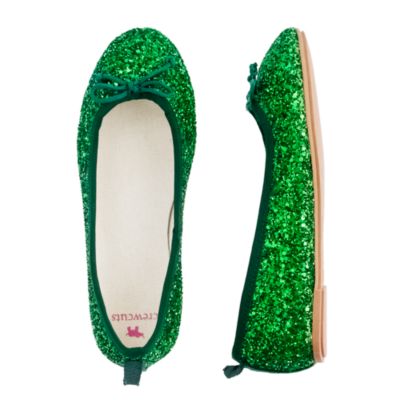 Emerald Slippers
Somewhere over the rainbow…there's a pair of gorgeous shoes! J. Crew Girls' Classic Glitter Ballet Flats are a no-brainer. Their sparkle will make little girls swoon and it's stuck on extra strong, so you won't have to worry about pesky fallout glitter. No lass will be able to resist clicking her heels in these eye-catching lovelies that were made to river dance.
$59.50; jcrew.com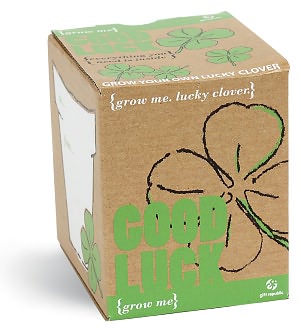 Green Thumb
The "Good Luck" Lucky Clover Grow Me Kit by Gift Republic makes the perfect activity to accompany holiday festivities. Teach the kids a thing or two about gardening, and enjoy watching the excitement of the little lasses and lads as they find a four-leafed clover in their very own crop. Who cares about the luck of the Irish when you can grow your own good fortune?
$5.95; barnesandnoble.com
This Shirt and Bow-Tie Set from Old Navy is for the trendiest little leprechauns. Your little guy will look cheerful and oh-so handsome—ready for the parade or the potluck—in this charming set. This suave look says "kiss me, I'm Irish" without actually saying it.
$19.94; oldnavy.com
Savannah Birnbaum is a student in NYC and former New York Family intern. She is a film fanatic, music lover, cook, and traveler who enjoys blogging about children's clothing and discovering new shops and restaurants around the city. You can reach her at SEBirnbaum@gmail.com