Sleepover Accessories For A Long Winter's Nap
Kids' slumber party essentials for a night to remember!
---
With all this extreme weather, outdoor fun may be limited. Keep kids safe and sound inside with these perfect sleepover accessories so they can find adventure indoors. Whether hosting a boys' camping trip or a girls' slumber party, these must-haves will turn any overnight into the kids' event of the season.
The Boy Explorer's Indoor Adventure
Pitch a tent­ right on your living room floor and send in the troops for an overnight camp-in. The aviator-inspired Recycled Canvas Pitch Tent from Restoration Hardware will make imaginations run wild. The authentic design gives it a vintage feel and a perfect blend of fun and good looks: a phenomenon we don't often see among kids' tents, usually adorned with colorful cartoons. This low-key favorite allows parents to make kids happy without sacrificing style, and will make for totally epic sleepovers.
$299, rhbabyandchild.com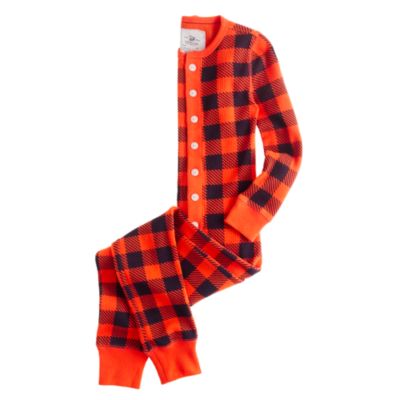 Warm, toasty, and ready for bed, J. Crew's Boys' Waffle Union Suit in Buffalo Check is the ideal woodsy apparel for indoor/outdoor overnight adventures. One garment for minimum hassle, these long johns will keep little boys feeling cozy and looking cool. Rugged adventurers will know this is a must-have for the campfire or the fireplace. Don't forget the hiking boots and hot chocolate!
$52.50, jcrew.com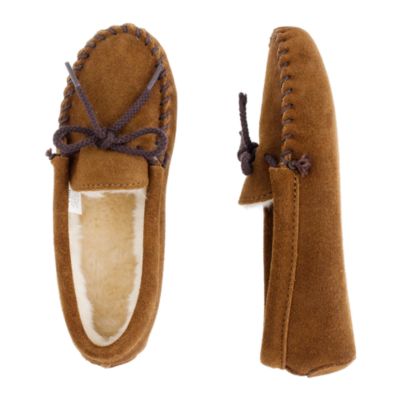 Keep tootsies comfy-cozy inside a pair of Minnetonka Lined Moccasin Slippers that are as soft as the marshmallows in your s'mores. Perfect for any sleepover, these woolly slippers are ideal companions for tiptoeing into the kitchen to grab a midnight snack.
$28, jcrew.com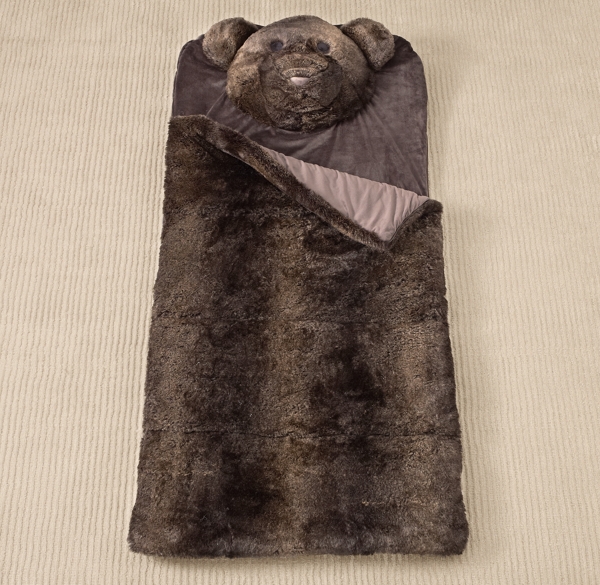 What could be more inviting than snuggling in with this furry friend for the night? Restoration Hardware is on a roll with their sleepover gear, and this Luxe Faux Fur Animal Sleeping Bag certainly hits the mark. Awesome for lounging and great to have for overnights, this soft bear bedding calls up images of forest lodges and crackling fires that will make little ones forget the chill outside.
$179, rhbabyandchild.com
The Dreamy, Girls-Only Slumber Party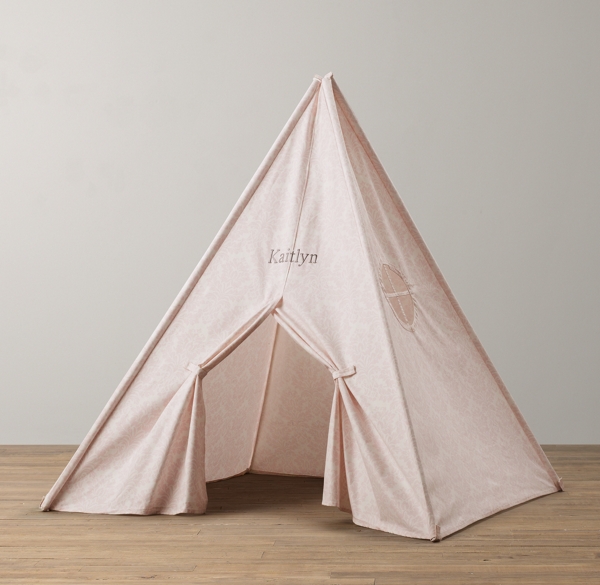 This adorable Printed Canvas Play Tent from Restoration Hardware sure beats homemade forts fashioned from sheets and chairs, and girls will adore telling secrets and painting toenails in their very own secret hideaway. A tower high above a castle or a cave in an enchanted forest, there's no limit to where imaginations will take them when nestled inside this magical tent.
$229, rhbabyandchild.com
Soft and feminine, the Raspberry Flowers Case from Bonpoint is a simply irresistible accessory for any little lady. The Liberty cotton-covered mini trunk adds a dose of whimsy to overnights and vacations. Just stuff this vintage-y valise with PJs, toothbrush, and pillow, and she's ready for a slumber party with the girls­–or a trip to Paris by train. Bon voyage!
$90, bonpoint.com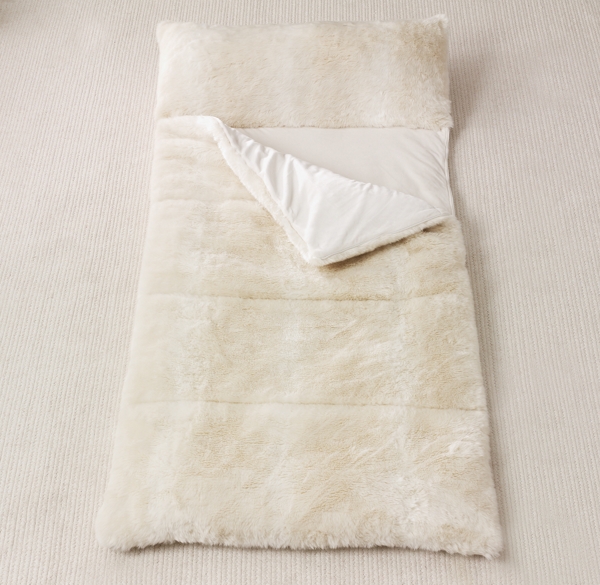 What's white, fluffy, and lighter than air? Your little girl will feel like she's drifting on a cloud as soon as she's tucked into this Luxe Faux Fur Sleeping Bag from Restoration Hardware. This snowy bedroll will accompany girls to the chicest slumber parties on the winter calendar, and may curtail the late night chatter, having little ones snoozing quietly before the stroke of midnight.
$159, rhbabyandchild.com
These Knitted Booties from Zara, cozy inside and out, fit like a dream on tiny feet. Perfect for bringing on stays with her BFF–she'll be dancing on air before settling down for a long winter's nap.
$19.90, zara.com

Print